Click to View Larger
Description
Designed for targeted pain relief*
Support muscles & joints
Allow for free range of motion
Can be worn 24 hours a day for up to 7 days
Can be worn during all activities
Made of elasticized 97% cotton and 3%  spandex
Latex free and hypoallergenic
Partial List of Injuries*
Lower Back Pain
Anterior Shoulder Instability
Rotator Cuff Tendonitis
Rotator Cuff Impingement
Carpal Tunnel Syndrome
AC Joint Sprain
Tennis Elbow
Golfers Elbow
Quadriceps Strain
Hip Bursitis
Shin Splint
IT Band Syndrome
Hamstring Strain
Calf Strain
Achilles Tendonitis
Lateral Ankle Sprain
Plantar Fasciitis
Neck Strain
Patella Tendonitis
Patella Femoral Syndrome
MCL Sprain
*(Not clinically proven for all injuries)
Customer Reviews
Write a Review
Ask a Question
01/31/2020
Fan
Love the tape but have to say absolutely adore the new beige color...gorgeous.
Andrea N.
United States
01/24/2020
It really works!
This product does what it says and more. It's light enough on the skin that it doesn't bother you, but at the same time it helps with muscle pain and stability.
Jennifer T.
United States
01/23/2020
Zebra
It seems to have helped with the pain. I am already out of it so I really need to order again
Dawn B.
United States
12/31/2019
Zebra thrive tape
I love the tape, especially the fact that it is Zebra-based! It is easy to use and durable.
Jaine M.
United States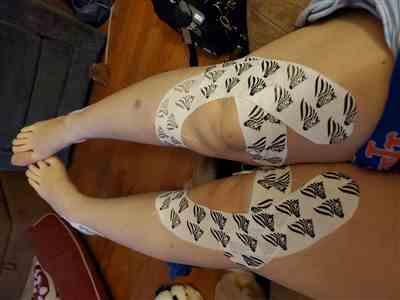 12/30/2019
My stripes
I like this tape. I dont know if theres a difference between this and the one without the zebras but it certainly feels that way. It sticks well to my skins and helps me walk a little better and somewhat pain free for a few days. I also just really like being able to wear my stripes 24/7.
Donna M.
United States
12/24/2019
Relief for Broken Heel Bone for International Elite -Hall of Famer
I broke my heel bone 24 years ago. I was an International Elite Weightlifter and competed all over the world. I was in many World and International Championships. I would have potentially been in 2 - 3 Olympics if women had been competing in the Olympics at that time. I am a Hall of Famer! My accident was career ending: It was a very bad bone to break - far from the heart, egg-shaped, and we walk on it. I had a lot of metal put in after my accident - a plate and 5 large screws. My heel bothers me often. I am happy to say I have found so much relief in the "Tape". It has changed my life. I have no question about the efficacy of the tape. It has helped me immeasurably... and better than anything else I have tried. It is a wonderful tool to aid in pain relief. I also use it on my back, at times, and have had the same great result.
Giselle S.
United States
12/18/2019
Works relieve knee pain
I cut a piece of the tape and further cut it to shape around my knee. After 3 applications of the same, no more pain and tightness
Jerry T.
United States
12/17/2019
Military Grade Fitness Tape
We purchased 4 rolls of your Thrive Tape as Christmas gifts for family members who are in the military and the stuff is a Huge Hit! 2 Marines, a Navy Search and Rescue Swimmer and a Navy SEAL were the recipients and more will be ordered soon as our list is much longer than 4!!! Love Thrive Tape!!! -Johnnieee
Johnnieee C.
United States
12/10/2019
Works Fast!
As someone that has lived an active lifestyle and is playing collegiate lacrosse, my knees have difficulty keeping up. After using Thrive Tape during practice, I noticed immediate relief. After nearly 10 years of knee pain, this product is exactly what I have been looking for. Will definitely be using again in the near future!
Ann B.
United States